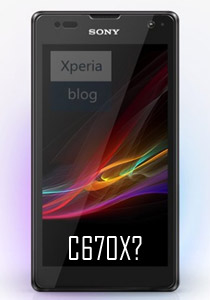 Sony shows  the new Xperia ZL and the Xperia Tablet Z at the MWC, but not unannounced models no. the latest is the Sony Xperia C670X.
As a comparison, the Xperia ZL model name or no. is the C650X, while the Xperia Z is the C660X. Recently we saw some browser info on the Sony C680X and wondered if there will be a C670X. Well, most probably, yes – at least that's what a tipster told XperiaBlog.net.
The C670X is competiting with the HTC One, judging on its rumored specifications. As Its specs It will have a 4.8" 1080p screen, a Snapdragon 600 chipset with a quad-core Krait 300 CPU at 1.8GHz, a 13MP camera Exmore RS camera and runs on Android 4.2 Jelly Bean.
If it's real, judging by 4.8" diagonal of the screen, we estimate the phone will measure 133.7 x 70.1mm. That's slightly shorter but wider than the HTC One (137.4 x 68.2 mm). The Sony C670X has no hardware buttons on the front, which accounts for the height difference.
Will the C670X/C680X duo relate to each other as the Xperia Z / ZL (C650X/C660X)? We are yet to see. Well, this rumor doesn't have a lot of evidence behind it (we checked the usual benchmarks scores sites and such, nothing yet), so keep your salt shaker around while reading this Article…..